Active and meaningful life for the elderly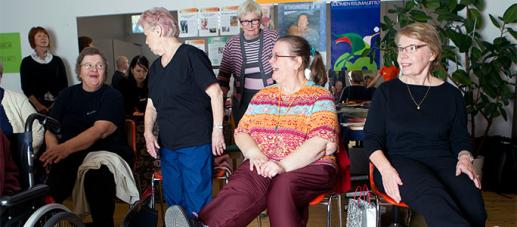 Eldercare students promote the wellbeing, physical capacity and social inclusion of the elderly. The objective is to ensure a smooth and safe everyday life for the elderly with creative and rehabilitative methods. 
Eldercare services offer many types of guidance in issues related to ageing. The students provide counselling and training for seeking and using various services related to healthcare, social wellbeing,     rehabilitation and exercise. 
The students may work with individual customers or with groups in Metropolia's premises, in customers' homes or in eldercare units. 
A visit to a gerontology student 
At HyMy-Village, gerontology students are completing a practical internship as part of their studies, the purpose of which is to practice professional and customer service skills. Practical learning situations take place under the guidance of a supervising teacher. In addition, student colleagues may also be monitoring the learning situation. 
During the visit the elderly care student assesses the customer's life situation together with the customer. Based on this assessment, a plan is made to help the customer with his/her current issues. The customer may for example have challenges related to living at home or to the use of online services. 
If necessary, the elderly care student consults other actors in the HyMy-Village and arranges a multi-professional meeting. 
Good to know before the visit 
What is a training customer? 
Everyone is welcomed as a training customer in HyMy-Village. Doctor's referral is not required. As a training customer, you will be acting as a customer for our students in a safe and supervised learning environment. This practice enables supported customer encounters corresponding to the actual practical work that the students will face within their own professional fields.  
With training customers, it is possible for students to practice their professional skills in a safe and supported learning environment, under the guidance of a supervising teacher and staff. Some of the skills that students will be learning: 
Interaction 
Professional skills 
Customer service situations 
Multidisciplinary cooperation 
Documentation 
Data collection. 
Training customer visit is a learning situation and it will therefore include e.g. guidance from the supervising teacher. The supervising teacher will always check and approve the examination and rehabilitation plan. Hence, interviews, examination, and other tasks might be slower compared to other professional services. 
If a training customer appears to be under the age of 13, his or her age will be checked. Parental consent is required for those under the age of 13 to participate in the activity. 
For your benefit
At HyMy-Village, our main goal is to provide quality wellbeing and health services without haste and taking into account your individual situation.
Good to know
In HyMy-Village you are a client in a learning situation where our students practice, under the supervision of teachers, in addition to their professional skills, e.g. people-centered interaction with clients. 
The research and rehabilitation plan made for you by our students is always checked and approved by the supervising teachers.
During your visit, in addition to the corresponding student, his or her student colleagues may be involved in observing the situation.
If you look younger than 13 years old, we will check your age, as under the age of 13 requires parental consent to participate in the activity.
Your feedback is important to us
Our goal is to provide you expert, flexible and personalized service without haste. Your feedback is important to us for the development of our operations and services. Please, give us feedback on the e-form: https://elomake.metropolia.fi/lomakkeet/29769/lomakkeet.html
HyMy-Village Patient Ombudsman
provide information about the client's rights and status
advises and, if necessary, assists in issuing a reminder or patient injury report
advises on matters related to patients' law
The patient ombudsman does not provide explanations or take a position on treatment decisions or possible treatment damage.
You can submit a contact request to the patient ombudsman by e-mail to potilasasiamies.hymykyla [at] metropolia.fi
Insurance
Metropolia has a health insurance for patient injuries covered by the Patient Injury Act. Metropolia also has a general liability insurance for damages taking place in education. The terms and conditions of the liability insurance can be seen in HyMy-Village.
Submitted on

23.1.2020 - 12:41