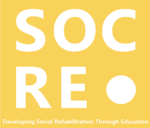 The project ended on October 14, 2019.
Socre is Erasmus+ co-funded project with 16 partners from 6 different countries. Project is co-funded by EU Capacity building in the field of higher education Erasmus+ KA2.
The purpose of the project is to improve user driven social rehabilitation through modern approaches of education. Societal changes and situations of elderly, chronically ill and disabled people in Kosovo and Russia require continuous training of rehabilitation staff.
The aim is to enhance education in social rehabilitation and management through lifelong learning (LLL), in line with the Bologna process and in collaboration with education, rehabilitation practice and ministries in Kosovo (Pristina and Gjakova) and Russia (Archangelsk, St Petersburg, Perm).
The outcome of the project is going to be 6 cpd courses on user driven social rehabilitation and management developed in Kosovo and Russia. European Qualifications Frameworks, lifelong learning and EQF principles are been utilized. The development of all courses has 4 phases: workshop, study visits, regional study circles and reflective seminar. The co-construction method is used to ensure early "ownership" of partners by involving them from the beginning. The resources of study visits to programme countries are shared evenly between European partners. The programme countries partners in five regional groups are responsible for the development work. European partners support and facilitate this work on the net and with the study visits.
Project is active 2017-2019.
Further information
tki-info [at] metropolia.fi 
Panu Karhinen
Project Manager
tel. +358 40 148 3947
panu.karhinen [at] metropolia.fi
Toini Harra
Project Leader
tel. +358 40 334 6102