Make a difference with us - apply to Metropolia now!
5.1.2022 - 08:00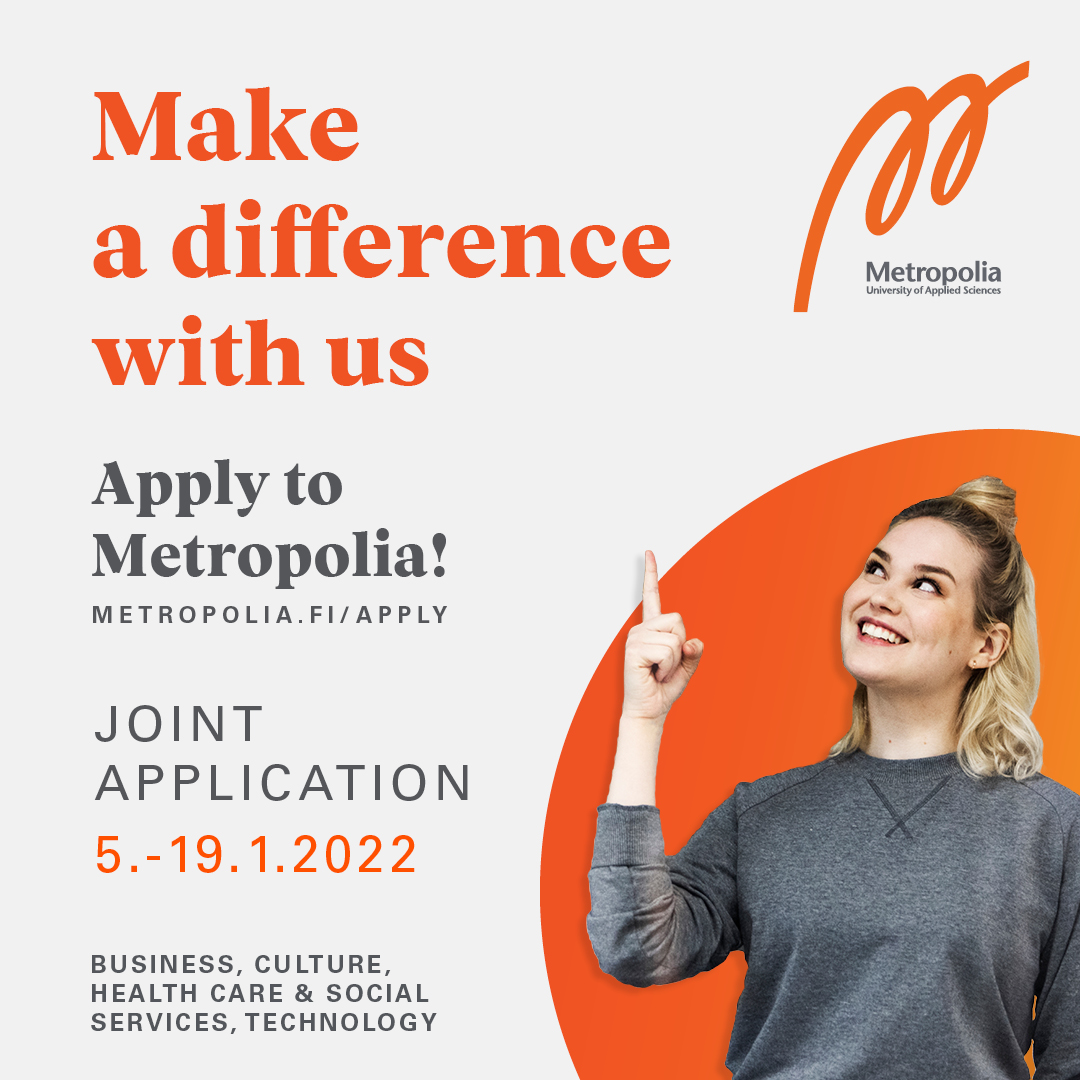 Planning an international career and looking for degree studies conducted in English?
Every one of us can make a difference – Metropolia's role as Finland's largest university of applied sciences is to enable our students to do just that. Besides skills and knowledge, we provide chances to put innovative ideas to the test in real life. As we're closely connected to the working life in the Helsinki metropolitan area, our students are surrounded by a wide variety of innovation projects as well as traineeship and employment opportunities. At Metropolia we encourage multidisciplinary thinking and continuous learning – which is why we support unique study paths. 

The national joint application for the International Bachelor's and Master's Degrees is currently on, the application time is January 5-19, 2022. The studies begin in August. 
Get to know our degree programmes
Metropolia's International Degree Programmes: 

Bachelor's Degrees
Master's Degrees
Follow our student ambassadors' stories in our Instagram account, @metropolia_uas! 

Check out the following videos and student stories:
See also these links: 
How to apply
Check out the complete English Degree Programme offering on the Metropolia website or Studyinfo site. On Studyinfo you can find the education offering by the keyword Metropolia-January2022. Please note that the application process is completed on Studyinfo. 

The joint application period for the Bachelor and Master's level degrees in English is 5.-19.1.2022.
Additionally, there will be a separate application in January-May 2022. The Separate Application for International Degree Programmes is aimed at applicants with a foreign degree/qualification or international pathway studies such as Edunation Pathway Diploma or Chinese-Nordic Pathway Programme. This application process is carried out as a flexible admission (i.e. "rolling admission"), which means that student selections are made as applications arrive. All those who meet the eligibility and admission criteria will be offered a place to study until the places have been filled or the application period ends. Student selections are made on a first-come, first-served basis, so the earlier you apply, the better your chances of getting a place to study. Read more about the timetables for the separate application

The joint application for the Bachelor's and Master's Degrees conducted in Finnish will be in 16-30 March, 2022. 
Further information
Please kindly contact admissions [at] metropolia.fi for any admissions related issues and questions. 
Release
Eva-Maria Vogasianos
Communications & Marketing Specialist; International Student Recruitment
Metropolia Communications 
p. +358 44 531 6694
eva-maria.vogasianos [at] metropolia.fi