Metropolia University of Applied Sciences deepens cooperation with Siemens Healthineers, Finland's leading health technology company
27.5.2021 - 16:25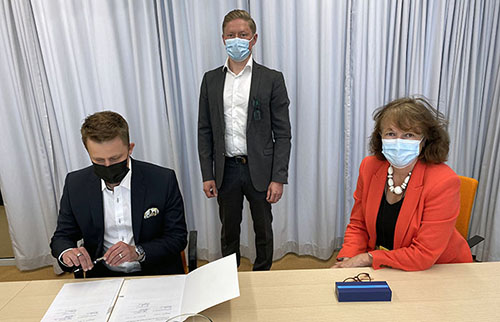 Metropolia and Siemens Healthineers have signed a letter of intent on health and medical technology. The letter of intent is intended to agree on research, development and innovation cooperation between Metropolia and Siemens Healthineers to promote sustainable well-being.
Siemens Healthineers develops innovative solutions for critical pathways from prevention to diagnosis and patient recovery. In Finland, the health technology supplied by Healthineers is widely used in both public and private sectors.
In Metropolia, the aim of the Customer-oriented Wellbeing and Health Services innovation hub is to both strengthen needs-based wellbeing and health technology expertise and to support the RDI-expertise of wellbeing and health technology companies by providing a preclinical research and testing platform (Metropolia Proof Health). Digitalization related competence will be accelerated in degree programs of health care and social services and in HyMy-Village. HyMy-Village is a people-oriented and ecosystem-based multidisciplinary learning and development platform.
The productivity challenges of healthcare and the aging of the population are increasing the demand for health technology, digitalization of healthcare and experts. In the health sector in particular, expertise is needed in digital solutions, virtual reality, robotics and artificial intelligence.
- Innovation has been and will always be at the core of our corporate culture so that people can live healthier lives for longer. At the same time, we help our partners increase healthcare productivity. Without experts, this is not possible. That is why we want to support students so that they have a broad capacity to manage innovation technologies and promote digitalisation. Together, we also want to enable the introduction of innovations and solve healthcare resource challenges with new operating models. We also welcome companies to the ecosystem, and together we will increase our capacity to meet the needs of Finnish healthcare, describes Jarno Eskelinen, CEO of Siemens Healthineers in Finland and Baltic countries.
- Metropolia's strategy focuses on continuous learning, digitalization and sustainable growth and development. As a higher education institution, we want to be the reinforcers of future expertize and regional business. Uusimaa has excellent opportunities to strengthen the emergence of innovations in the fields of wellbeing and health technologies, as long as we boldly build cross-sectoral ecosystems in cooperation. The goal of Metropolia and Siemens Healthineers is to build a creative and innovative cooperation platform, says Metropolia's President, CEO Riitta Konkola.
Cooperation with Siemens Healthineers ensures a good career path for Metropolia students in health and medical technology. Collaboration increases students' ability to take on demanding challenges across disciplines. University co-operation and research partnerships enable the introduction and utilization of new technologies and innovations, the transformation of care pathways and the digitalisation of healthcare in Finland.
Riitta Konkola and Jarno Eskelinen signed a letter of intent at Myllypuro campus on 25 May 2021
Contacts
Minna Elomaa-Krapu
Innovation Director
Customer-oriented Wellbeing and Health Services
Tel. +358 50 532 6331